Servings:

6

Total Time:

8 mins

Created by:

Blue Ribbon Classics
Ingredients
All:
3 Large apples (any variety)
3 tbsp butter
3 tbsp honey
3⁄4 tsp ground cinnamon
Pinch of salt
Blue Ribbon Classics® French Vanilla Ice Cream
Instructions
All:
Cut rinsed apples into 1⁄2" - 1" sized cubes. Discard the core, stems and seeds.
Add butter, apple cubes, honey, cinnamon and salt to a heat safe pan and stir until all ingredients are well combined.
Cook 3-4 minutes, over medium to medium/high heat, stirring occasionally, until the apples are golden brown and slightly softened.
Let the topping cool for a few minutes.
Spoonful over a bowl of Blue Ribbon Classics® French Vanilla Ice Cream and enjoy with your whole crew!
Featured Flavors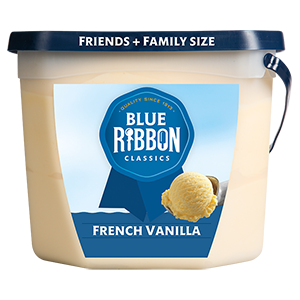 French Vanilla
Rich artificially flavored french vanilla reduced fat ice cream with silky butter cream flavor. Perfectly paired with your favorite slice of pie!