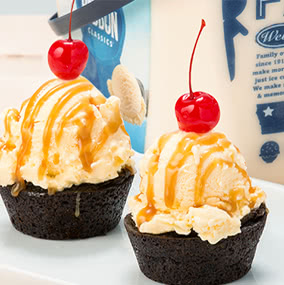 Servings:

12 servings

Total Time:

1 hour, 30 mins

Created by:

Blue Ribbon Classics
Ingredients
Brownie Batter (your favorite brownie mix or recipe)
Two Muffin Tins
Cooking Spray
Blue Ribbon Classics Vanilla Ice Cream
Caramel Sauce
Maraschino Cherries
Instructions
Pre-heat your oven according to the brownie mix or recipe.
Follow directions for your favorite mix or recipe to make the batter.
Spray the first muffin tin with cooking spray before filling each cup with brownie batter, about twothirds full.
Place in the heated oven & bake according to the brownie mix or recipe.
While the brownies are baking, spray the bottom of the second mu¿n tin with cooking spray.
Remove baked brownies from the oven and immediately press the second muffin tin into the brownies to form the brownie cups. Keep the second tin in place until the brownies cool completely.
Once cooled, remove brownies from the muffin tins.
Finally, add a scoop of Blue Ribbon Classics® Vanilla Ice Cream and top with caramel sauce and a maraschino cherry.
Featured Flavors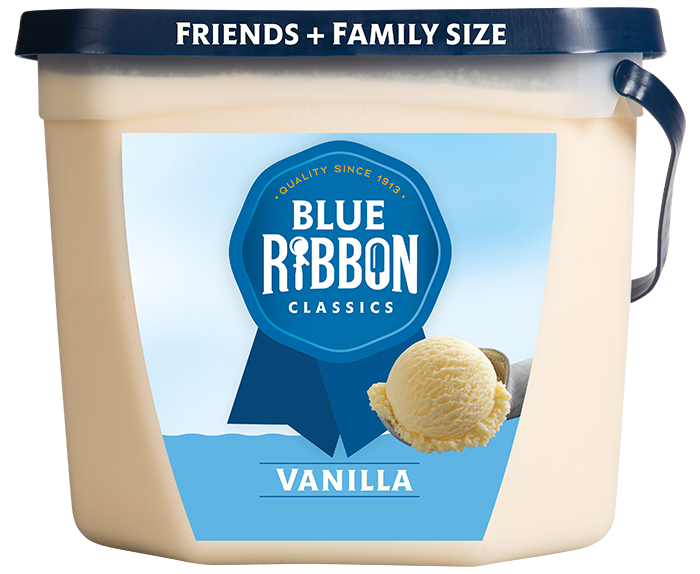 Vanilla
Nothing can beat the ultimate classic. Artificially flavored vanilla reduced fat ice cream.