Buttered Pecan French Toast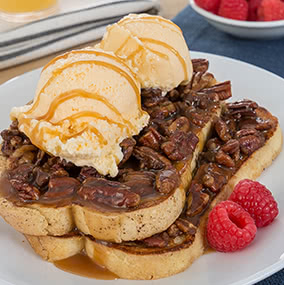 Servings:

4 servings

Total Time:

40 mins

Created by:

Blue Ribbon Classics
Ingredients
Buttered Pecans:
1 heaping up pecan halved, coarsely chopped
3 Tbsp. unsalted butter
1/2 tsp. granulated sugar
1/2 tsp. salt
1/4 cup brown sugar
1/2 Tbsp. cinnamon
French Toast:
5 large eggs
1 1/2 cup whole milk
4 Tbsp. lightly packed light brown sugar
1/2 tsp. ground cinnamon
1/4 tsp. salt
3 tsp. pure vanilla extract
8 slices of sourdough bread
4 Tbsp. unsalted butter, for the pan
Blue Ribbon Classics Vanilla Ice Cream (for serving)
Maple syrup (for serving)
Caramel sauce (for serving)
Instructions
Buttered Pecans:
Preheat oven to 350° F.
Place the pecan pieces on a rimmed baking sheet and toast, until fragrant and golden brown, about 12 minutes.
In a saucepan set over medium heat, melt the butter.
Stir in the granulated sugar, cinnamon and salt.
Add the pecans and brown sugar, stirring until the butter is lightly browned, about 3 minutes.
Remove the pan from heat, set aside.
French Toast:
In a medium bowl, whisk together the eggs and milk.
Add the brown sugar, cinnamon and salt.  Stir just until the sugar is dissolved.  Lastly, stir in the vanilla.
Working with one slice of bread at a time, put a slice into the egg mixture and let it soak for 15 seconds on each side.
Using medium heat and a nonstick pan, melt butter.  Place 2 or 3 slices onto the heated pan and cook for about 2 minutes per side or until golden brown on each side.  Repeat the cooking process with the remaining bread.
For Serving:
Place 2 slices of french toast on a plate, covering them first with the buttered pecans. 
Next, add 1-2 scoops of Blue Ribbon Classics Vanilla Ice Cream on top of the pecans. 
Cover with caramel sauce and syrup.