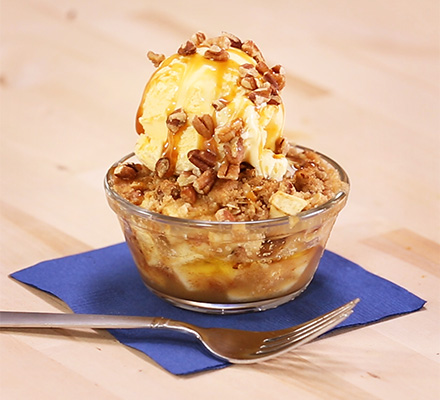 Servings:

9-12

Total Time:

Created by:

Blue Ribbon Classics
Ingredients
Filling:
6 whole apples peeled, cored, and diced; about 6 cups
¼ to ¾ cup brown sugar, depending on the sweetness/tartness of your apples
2 tablespoons melted butter
6 tablespoons apple juice
1 teaspoon ground cinnamon
¼ teaspoon ground nutmeg
¼ teaspoon ground ginger
3 tablespoons Unbleached All-Purpose Flour
¼ teaspoon salt
Topping:
¾ cup All-Purpose Flour
½ cup quick oats
¼ teaspoon salt, heaping
2/3 cup light brown sugar
1 teaspoon ground cinnamon
¾ teaspoon baking powder
½ cup (8 tablespoons) cold butter - cut in pats
½ cup diced pecans or walnuts, optional
Instructions
All:
Preheat oven to 350°F.
Butter individual ramekins or a 9" X 9" pan.
Peel, Core, and Dice the apples about 1/4" thick.
Toss with the remaining filling ingredients, and spread them evenly in the buttered pan or ramekins.
To make the topping, whisk together the flour, oats, salt, sugar, cinnamon, and baking powder. Add the cold butter, working it in to make an unevenly crumbly mixture. Stir in the nuts, if you're using them. Spread the topping over the apples in the pan.
Set the ramekins on a parchment- or foil-lined cookie sheet, to catch any potential drips. Bake the crisp for about 60 minutes, until it's bubbling and the top is golden brown.
Remove from the oven, and allow it to cool for at least 20 minutes before serving.
Top each serving with Blue Ribbon Classics French Vanilla ice cream and drizzle some caramel sauce over it.