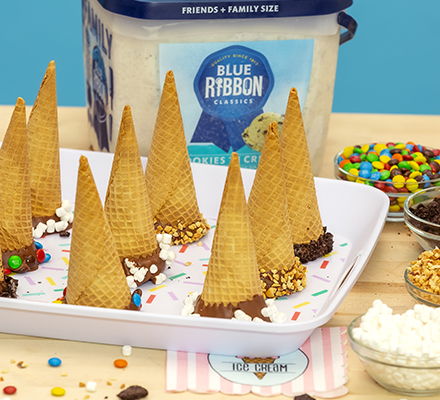 Servings:

12

Total Time:

8 mins

Created by:
Ingredients
All:
1 Pack of sugar cones
Chocolate chips
Favorite Blue Ribbon Classics® pail
Favorite toppings: candies, coconut, sprinkles, pretzels, graham crackers, sandwich cookies
Instructions
All:
Place chocolate chips in a microwave safe bowl. Melt in microwave at a low temperature for 30 second intervals, stirring between each.
Dip the top inch of the cones in the melted chocolate.
While chocolate is still melted, either sprinkle or dip the cone into your chosen toppings.
Set in fridge for 10-15 minutes or until chocolate hardens.
Remove from fridge and top these custom cones with your favorite Blue Ribbon Classics® Ice Cream flavor!
Share with your whole crew!