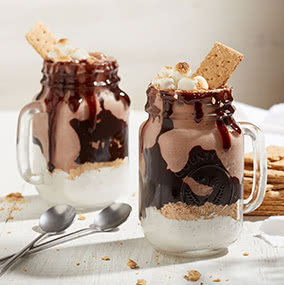 Servings:

4 servings

Total Time:

15 mins

Created by:
Ingredients
All:
Marshmallow fluff
Hot Fudge
Graham crackers, crushed
Graham crackers, broken into quarters
Mini Marshmallows
Blue Ribbon Classics Chocolate Ice Cream
Instructions
All:
Spoon marshmallow fluff into glasses, coating random spots on the sides.
Spread heated hot fudge into glasses, coating spots not covered by marshmallow fluff.
Sprinkle crushed graham crackers into glass, coating marshmallow fluff and hot fudge.
Scoop in Blue Ribbon Classics Chocolate Ice Cream to top.
Drizzle hot fudge on top.
Garnish with mini marshmallows and graham cracker squares.
Dig in!