Chocolate Sundae Cone
Chocolate frozen dairy dessert in a sugar cone dipped in chocolate flavored coating topped with chocolate cookie pieces. Always a treat! At Blue Ribbon Classics, we don't just make frozen treats. We make days better. Moods brighter. Traditions stronger. Occasions more fun. We make memories to last a lifetime. One delicious, ice creamy bite at a time.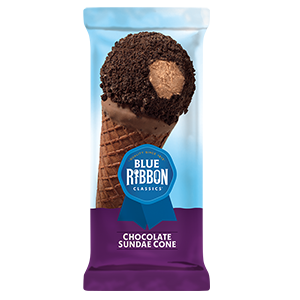 Nutritional Info
No Nutrition Information Available.

SIGN UP FOR THE SCOOP.
Join our email club to get updates on flavors and promotions from Blue Ribbon Classics.
Sign Up Today