Cookies 'n Cream Sundae Cone
Cookies 'n Cream frozen dairy dessert in a sugar cone dipped in white coating topped with chocolate cookie pieces. Sure to be loved by your family! At Blue Ribbon Classics, we don't just make frozen treats. We make days better. Moods brighter. Traditions stronger. Occasions more fun. We make memories to last a lifetime. One delicious, ice creamy bite at a time.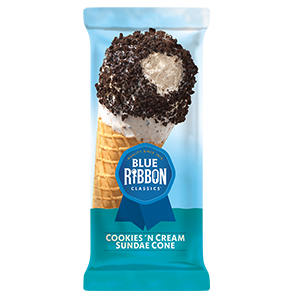 Nutritional Info
No Nutrition Information Available.

SIGN UP FOR THE SCOOP.
Join our email club to get updates on flavors and promotions from Blue Ribbon Classics.
Sign Up Today