Chocolate Ice Cream Sandwiches
Chocolate Ice Cream Sandwiches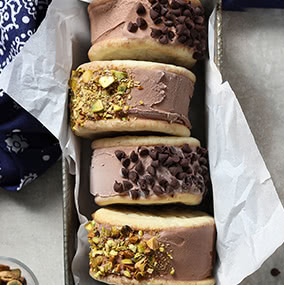 Servings:

6 servings

Total Time:

45 mins

Created by:
Ingredients
All:
1 dozen sugar cookies, either store bought or your favorite recipe.
Blue Ribbon Classics Chocolate Ice Cream
Pistachios, chopped into small pieces.
Mini chocolate chips
Instructions
All:
Let chocolate ice cream thaw slightly, so it's easy to spread.
Scoop a generous amount of slightly thawed chocolate ice cream evenly onto cookies.
Place a second cookie to sandwich the ice cream between sugar cookies
Use a spatula to even out the edges of the ice cream.
Gently pat pistachios and mini chocolate chips onto the exposed chocolate ice cream, covering the desired amount.
Refreeze to solidify
Serve and enjoy!