"No Fry" Fried Ice Cream Bites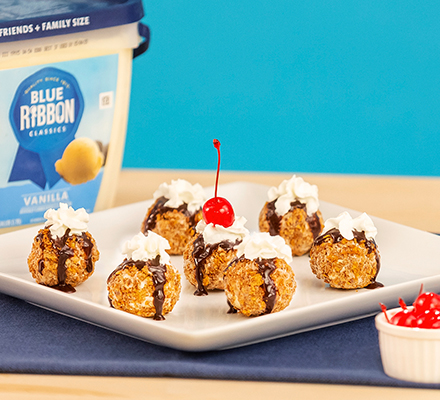 Servings:

20 small ice cream bites

Total Time:

25 mins

Created by:

Blue Ribbon Classics
Ingredients
All:
1 pail Blue Ribbon Classics® Vanilla Ice Cream
5 cup Corn Flakes
½ cup butter
2 tsp cinnamon
4 tsp sugar
Chocolate sauce (Optional)
Whipped cream (Optional)
Cherries (Optional)
Instructions
All:
Scoop and form Blue Ribbon Classics® Vanilla Ice Cream into 1" bites, lay on cookie sheet and place back in freezer for 15 minutes. Pro tip: Use a 1" ice cream scooper to make the ice cream bites.
While ice cream bites are in the freezer place your favorite cereal into a resealable bag and crush.
Melt butter in a medium skillet over medium heat. Carefully stir in crushed cereal and cinnamon. Stir until cereal is golden brown, about 3-5 minutes.
Remove from heat and stir sugar into cereal mixture.
Pour cereal mixture into a shallow dish and allow to cool completely.
Place an ice cream bite into the cereal mixture and roll to evenly coat. Place coated bite on cookie sheet. Repeat until all the bites are coated. Refreeze 2-5 minutes before topping.
Remove bites from freezer, top with chocolate sauce, whipped cream and cherries.
Share with the whole crew!